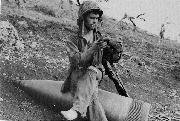 John Ramsey Post Commander
On behalf of all the members of Post 3457, I would like to welcome you to our website. From this page you will be able to see and learn many things about our post and about the history of these Islands we call home. We invite you to email us any comments or suggestions you may have about our site. Also please take a moment to sign our guest book. We thank you again for visiting us and hope you enjoy your visit here.
John Ramsey
The membership of Post 3457 Post 3457 salutes the Men and Women of our armed forces for a job well done in Iraq. We also ask that all Americans join us in payer for our fallen comrades.
Oh merciful father we pray that you welcome into your loving arms those that fell in the defense of freedom and that you give peace and comfort to those they left behind.
Amen

REMEMBER
It was the Veteran, not the reporter, who has given us freedom of the press.
It was the Veteran, not the poet, who has given us freedom of speech.
It was the Veteran, not the lawyer, who has given us the right to a fair trial.
It was the Veteran, not the campus organizer, who has given us the right to demonstrate.
It is the Veteran who salutes the flag.
Who served under the flag.
Whose coffin is draped by the flag.
Who allows the protester to burn the flag.
~ Father Dennis O'Brien, USMC ~